Top sights in Whistler, Canada
Canada is known for its breathtaking landscapes and outdoor adventures. In the middle of British Columbia's beautiful Coast Mountains lies the town of Whistler. This charming resort is a popular destination for winter sports enthusiasts and summer explorers alike. Many will also know the place for the Winter Olympics, which took place here in 2010.
Sea to Sky Highway
Whistler is located in western Canada, just a two-hour drive from Vancouver. The 120-kilometre road from Vancouver to Whistler is known as the 'Sea to Sky Highway', because of the scenic route you follow. This expansive road continues to Lillooet, a charming village located in British Columbia. Driving this route, you'll pass numerous highlights worth stopping at. These include the Cypress Mountain Lookout, Porteau Cove, Shannon Falls and Alice Lake. The Cypress Mountain Lookout offers a perfect opportunity to take a break and enjoy the view.
Image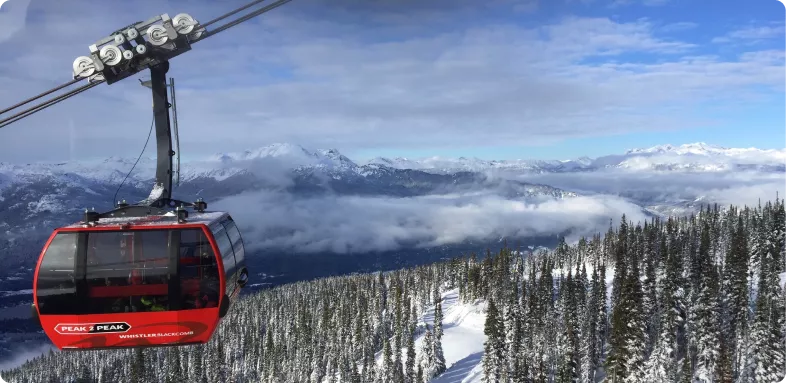 What to do in Whistler
Whistler is famous for its first-class skiing and snowboarding facilities that attract visitors from all over the world during the winter season. The Whistler Blackcomb ski resort offers an extensive network of ski runs, snowparks and gondolas, so everyone from beginners to experts can have an adventurous time in the mountains. Even during the summer months, the beautiful alpine scenery remains breathtaking, with a plethora of outdoor activities including hiking, mountain biking, ziplining, bungee jumping, whitewater rafting and even bear spotting. For those who want to take it a little easier, there are options such as fishing, golfing or picnicking amidst all the natural beauty.
Whistler Village
Whistler consists of several neighbourhoods, including Whistler Village, which is an excellent choice for accommodation because of its abundance of shops and eateries. It is important to note that Whistler Village is car-free. Fortunately, the city is designed so that hotels are located around the center, where you can of course park your rental car. For lovers of sushi, Sushi Village is recommended. If you are lucky, you can sit at a table by the window and enjoy the lively cityscape.